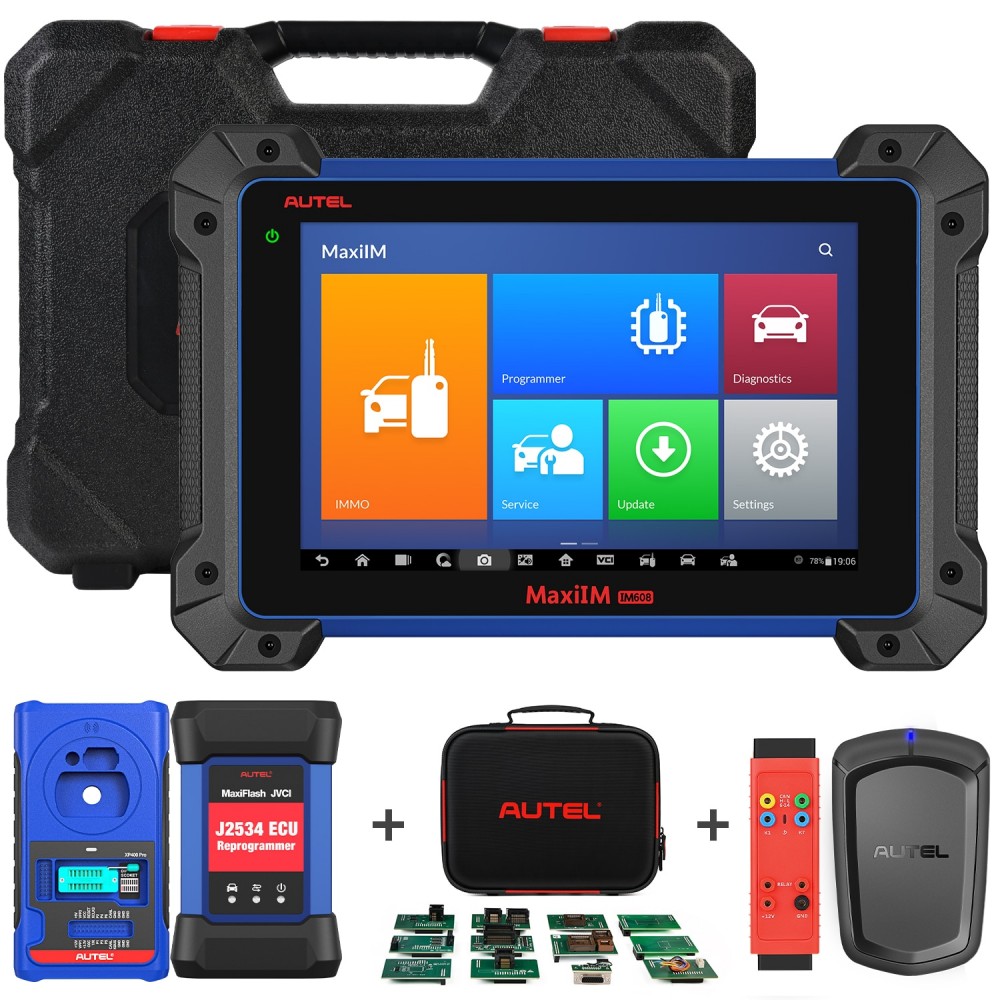 Autel MaxiIM IM608 Pro with IMMO XP400 Pro Key Programming Tool J2534 Reprogrammer, 30+ Services Functions All Systems Diagnosis
Looking for help? or Get More Discount
Please contact WhatsApp:
+1 850 888 8336
Product Code:
1005002666543661
Weight: 10kg
Product Description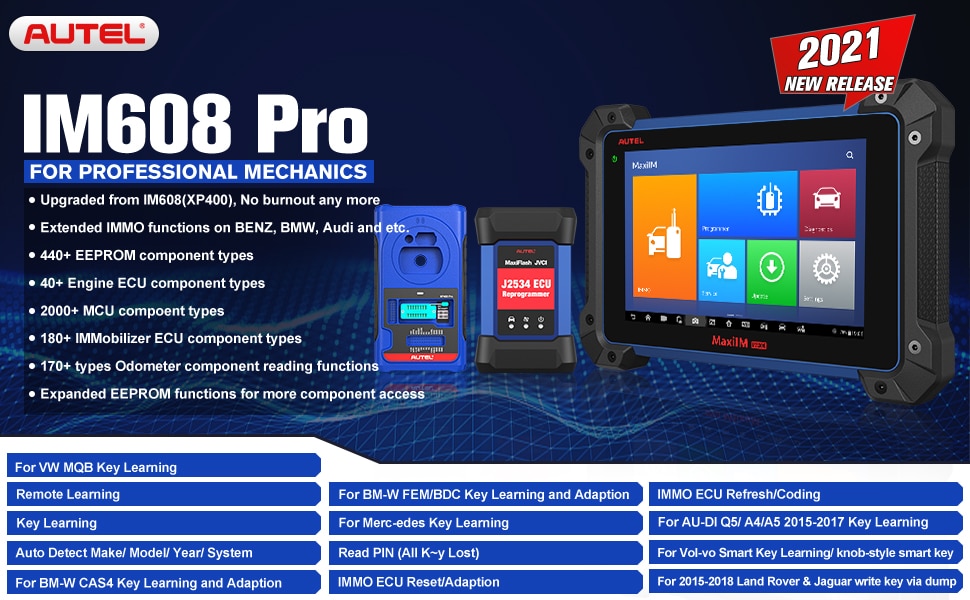 NOTE:
IM608 PRO has no IP lock!!!! IM608 PRO open use area, you can use in any area!!!
Multilingual:
Support 12 Languages: English, Spanish, French, German, polish, Italian, Japanese, Korean, Dutch, Portuguese, Swedish, Russian. (Please leave the S/N of machine to authorize the language you want after you receive it.)
2021 Autel MaxiIM IM608 PRO & IMKPA Key Programming All System OBD2 Auto Diagnostic Tool ECU Coding PK IM608 & IM508
The IM608 PRO KPA is a comprehensive key and immobilizer programming package of the MaxiIM IM608 Pro 10.1-inch Android touchscreen tablet, XP400Pro key and chip programmer, the wireless JVCI J2534 pass thru programming device and the Key Programming Adapter kit. The IM608 Pro enables key learning directly through the OBDII port for 85 percent of vehicles in North America. The tablet can read the immobilizer pins and password directly from the vehicle and store this information to use later when learning the newly programmed keys to the vehicle. The IM608 Pro is also an advanced diagnostics tablet featuring AutoVIN and AutoSCAN technology to automatically identify the vehicle and perform an all systems scan. The advanced diagnostics functions of the IM608 Pro include the ability to perform active test, coding and adaptations.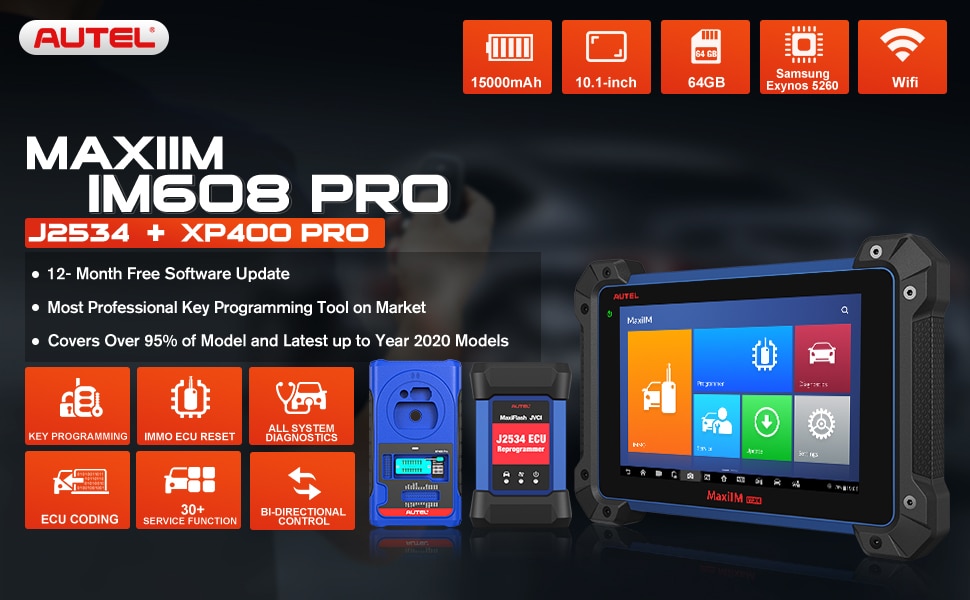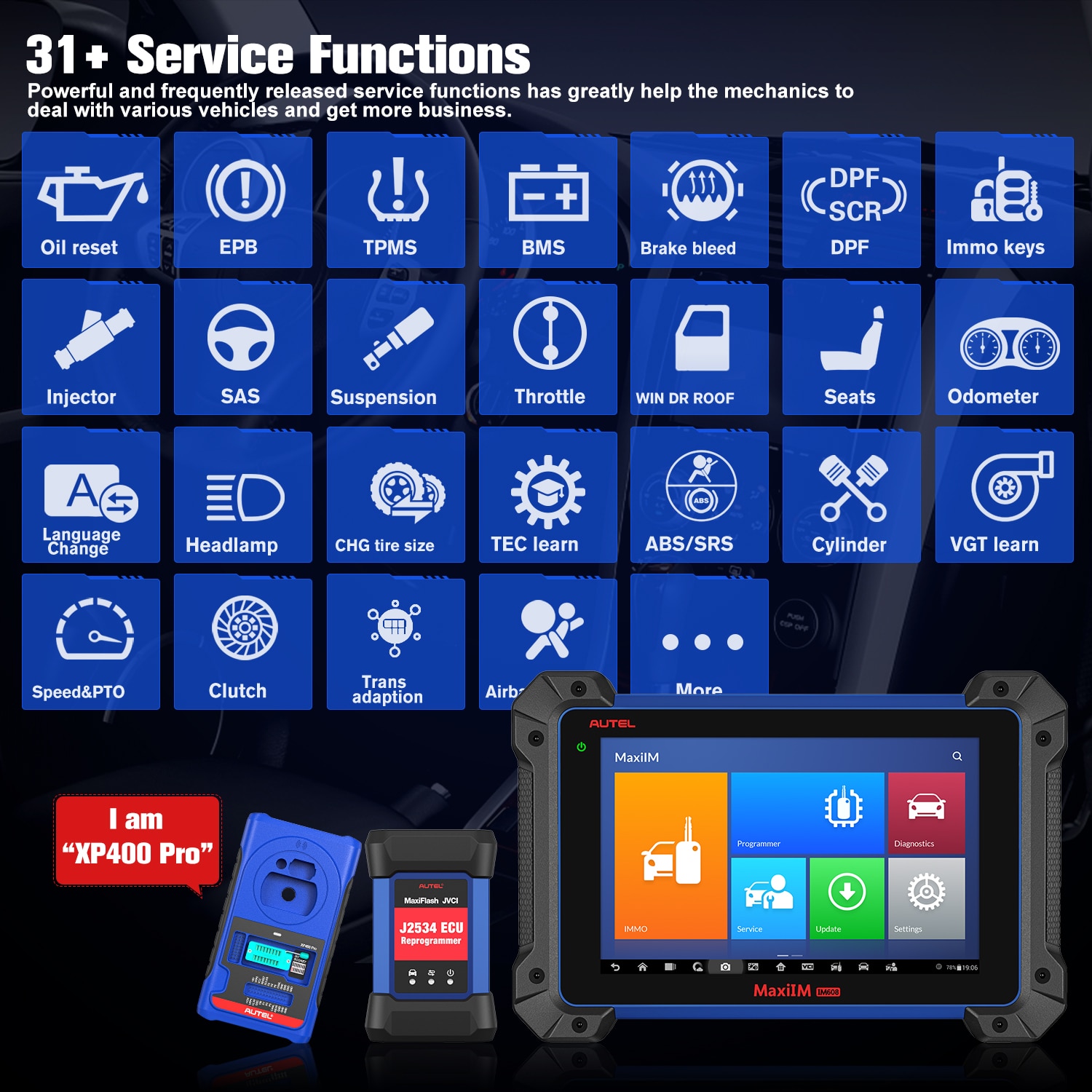 Autel IM608 Pro Main Features:
• IMMO & Key Programming Bundle • MaxiIM IM608 Pro 10.1-inch Android Touchscreen Tablet • Program IMMO & Keys for U.S., Asian and European Vehicles • XP400Pro Key and Chip Programmer • JVCI Wireless J2534 Pass Thru Programming Device • Includes IMKPA Key Programming Adapter Kit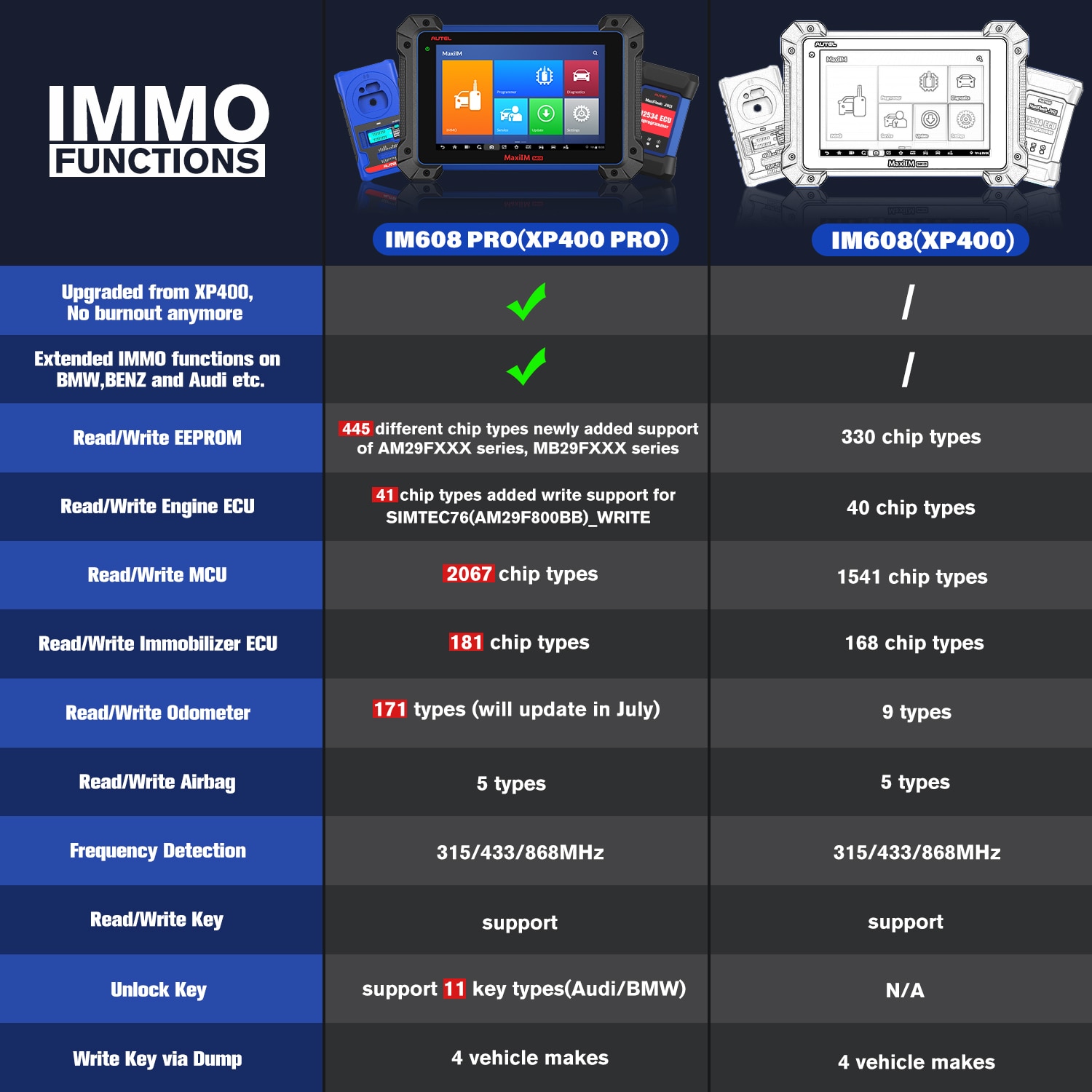 AUTEL IM608 PRO Functions Supported:
1. IMMO Functions
1.Auto Detect Make/Model/Year/System 2.Read PIN (All Key Lost) 3.Key Learning 4.IMMO ECU Reset/Adaption 5.IMMO ECU Refresh/Coding 6.Remote Learning 7.AUDI Q5/A4/A5 2015-2017 Key Learning 8.VW MQB Key Learning 9.BMW FEM/BDC Key Learning and Adaption 10.BMW CAS4 Key Learning and Adaption 11.Mercedes Key Learning 12.2015-2018 Land Rover & Jaguar write key via dump 13.Volvo Smart Key Learning/knob-style smart key 14.Advanced Programming Functions 15.EEPROM Read/Write 16.MCU Read/Write 17.Key Programming 18.Mercedes Key Read/Write 19.Remote Frequency Detect 20.OE-Level Diagnostics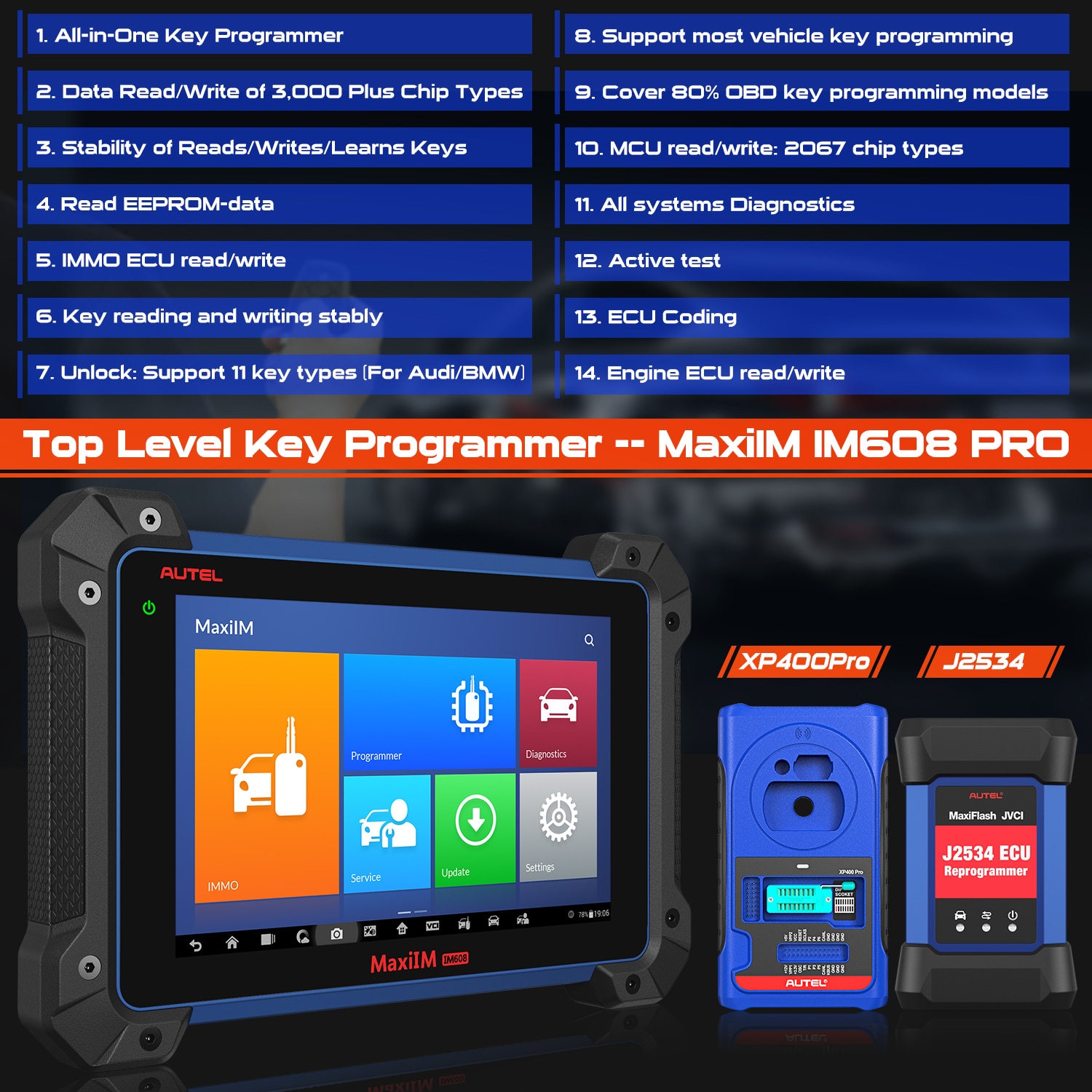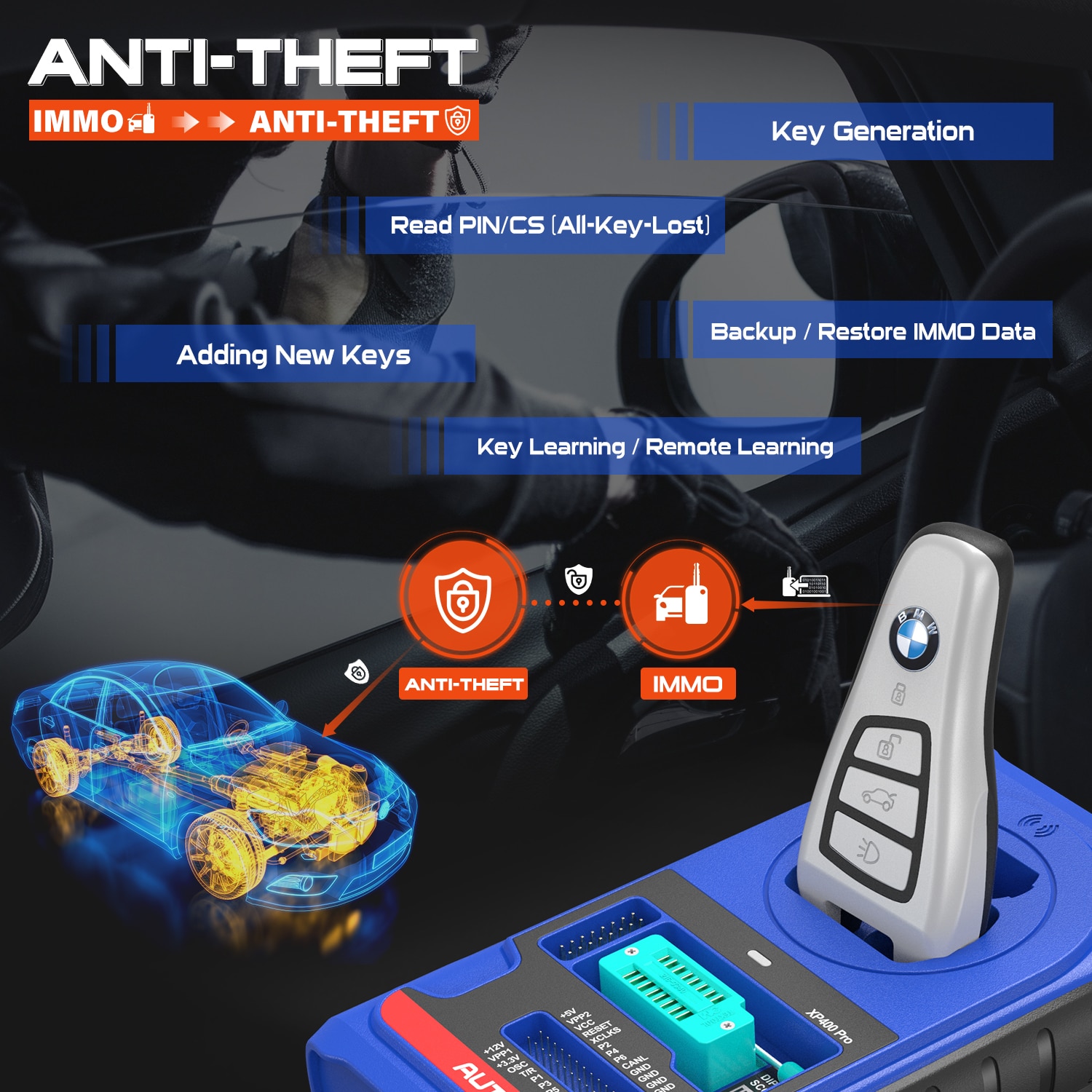 2. All System Diagnostics & Advanced Service Functions (Work with the MaxiFlash JVCI (J2534 ECU Reprogrammer)
1.Oil Service Reset 2.Parking Brake Pad Relearn After Replacement 3.Steering Angle Sensor Relearn 4.Battery Registration and Reset 5.Diesel Particulate Filter Regeneration 6.Tire Pressure Monitoring System 7.Active Test 8.ECU Coding 9.VW/Audi Component Protection 10.Complete Service Functions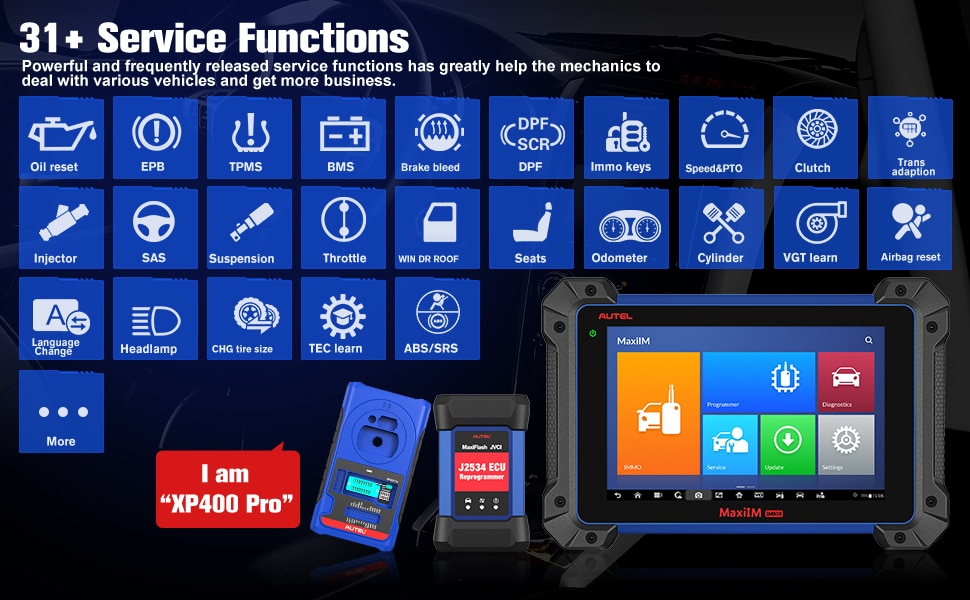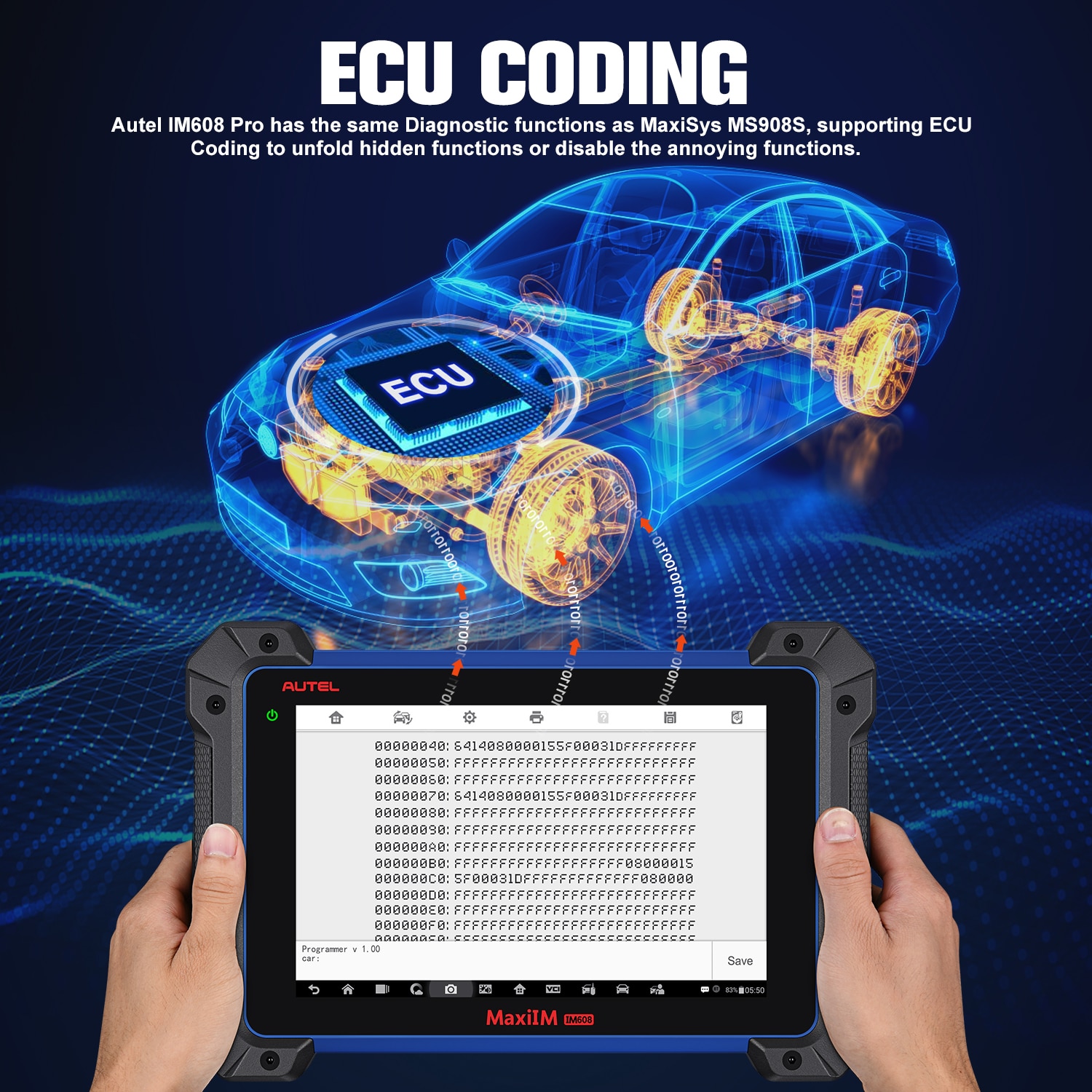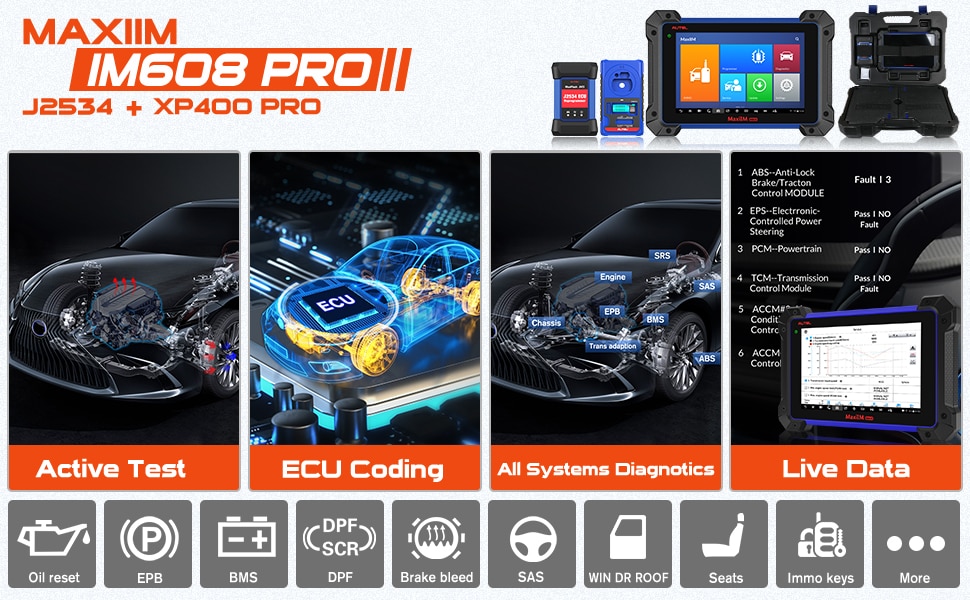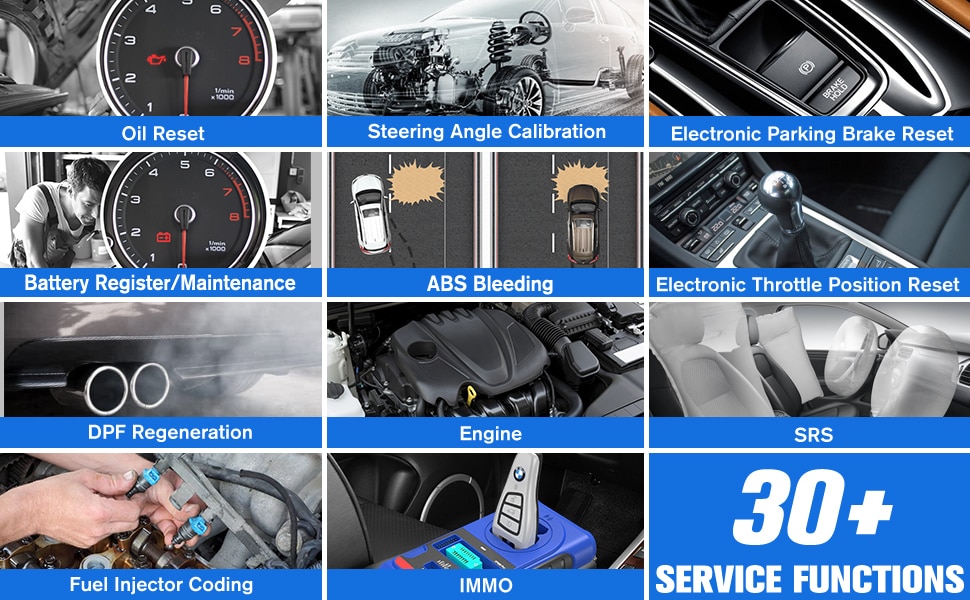 XP400 Pro adds support for following Chips:
1.EEPROM-->AMD-->AM29FXXX series chip 2.EEPROM--> FUJITSU-->MB29FXXX series chip 3.EEPROM-->ST-->M29FXXX series chip 4.Engine control module-->ST-->M29FXXX series chip 5.IMMO-->BENZ-->ESL_W209_W906 (Motorola) read/write/erase function 6.IMMO-->BMW-->EWS3 module read/write function 7.REMOTE_RENEW(renew key)-->NEC-->V51 and V5 chip read/write/erase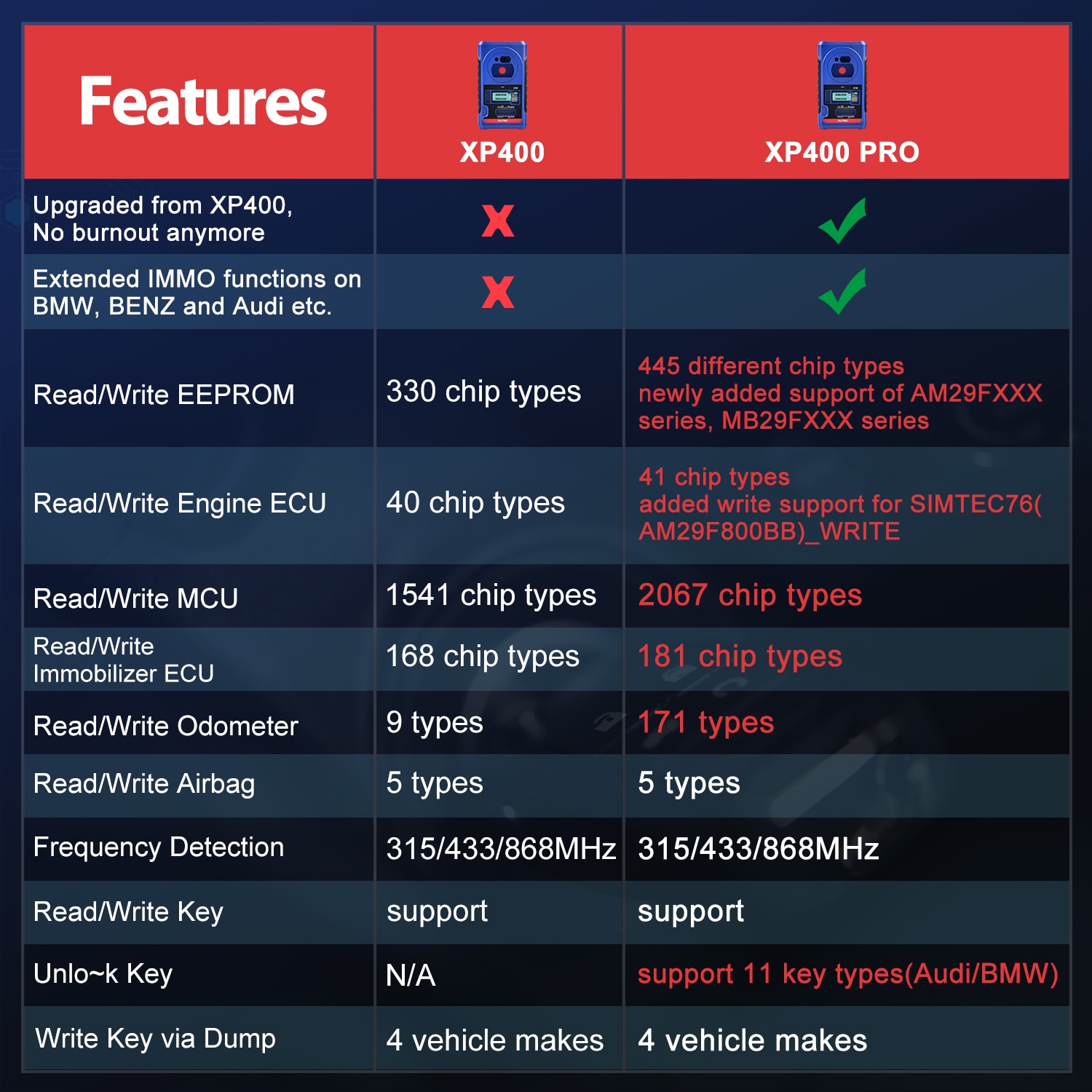 XP400 Pro adds support for following Adapter Board:
1.APB113 PCF79XX adapter board 2.APB114 EWS3 adapter board 3.APB115 NEC Adapter board 4.APB118 NEC ELV adapter board 5.APB119 TB28FXXX adapter board 6.APB120 TMS370 adapter board 7.APB121 AM29FXXX adapter board 8.APB122 AM29FXXX adapter board 1 9.APB123 AM29FXXX adapter board 2 10.APB126 M35080/D80 adapter board 11.APB127 MC68HC0(7)05BXX adapter board 12.APB128 MC68HC05X32 adapter board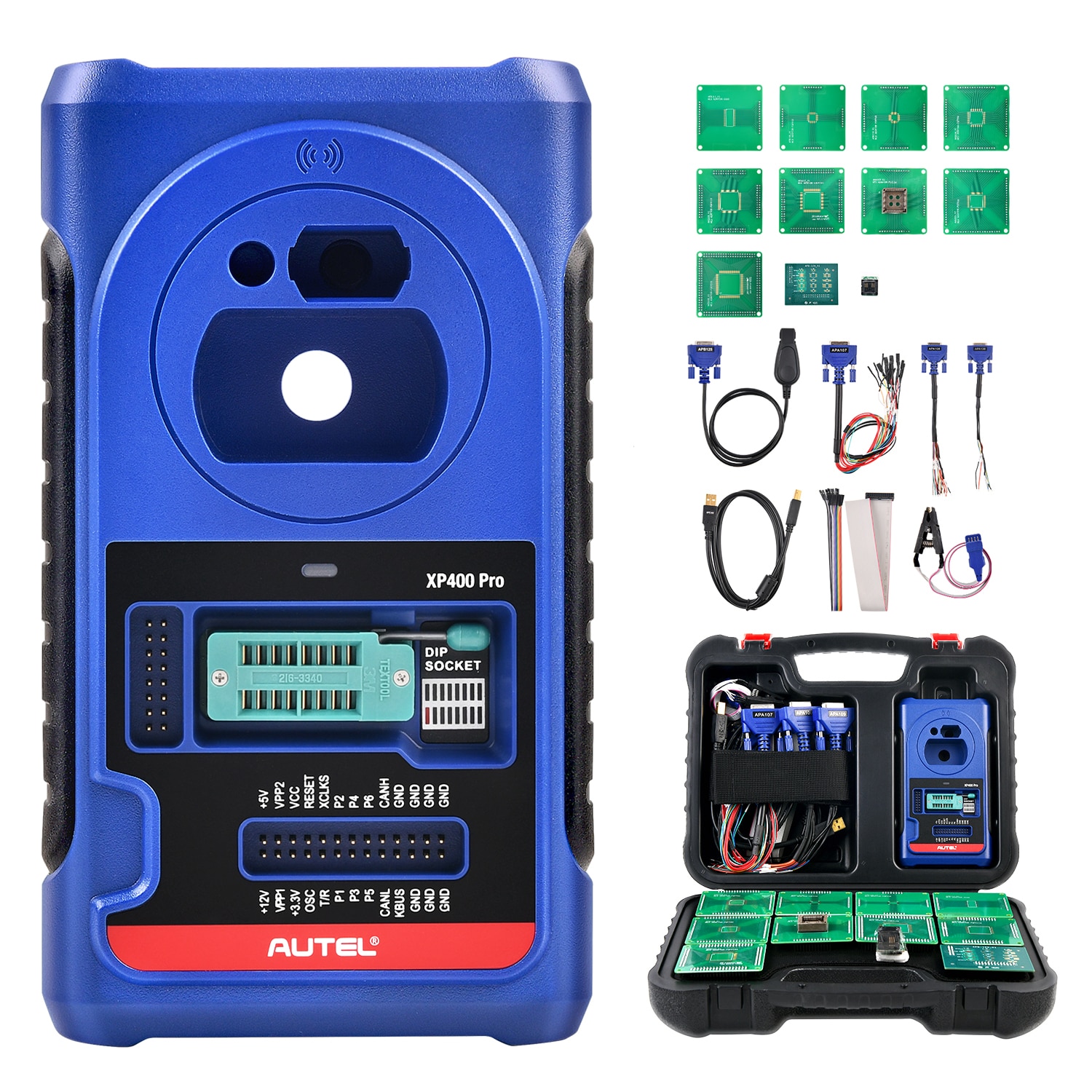 Advanced Key Programming Functions
1.Exclusive Smart Mode to guide Key Programming 2.Auto Read IMMO Data via OBD 3.One-tap Key Programming via OBD & Easy-to-use Remote Programming 4.With the newly upgraded key programmer XP400 Pro
Extensive Vehicle & Functionality Coverage
1.Support Diagnostics & IMMO Programming for 10,000+ Models; 2.Support Models Up to 2020; 3.All System Diagnostics and Advanced Maintenance Services; 4.Benz -- 3rd Generation IMMO CAN-Line / K-Line Add Key, All Key Lost via OBD; 5.BMW -- Support EWS3/4; CAS 1/2/3/4, FEM/BDC Add Key / All Key Lost; 6.Volkswagen / Audi -- Add Key / All Key Lost via OBD for 2013 - 2020 Models; 7.GM -- Read IMMO Password, Add Key / All Key Lost up to 2020; 8.Ford -- Add Key / All Key Lost (No PIN Needed) up to 2020; 9.Mazda -- Add Key / All Key Lost (No PIN Needed) up to 2020; 10.FCA -- Read IMMO Password, Add Key / All Key Lost up to 2020; 11.Renault -- Add Key / All Key Lost (No PIN Needed) up to 2020 12.Jaguar LandRover -- Add Key / All Key Lost up to 2019 13.Volvo -- Semi-smart Key Learning via OBD up to 2018; Smart / Blade / Fobik Key Learning via Dump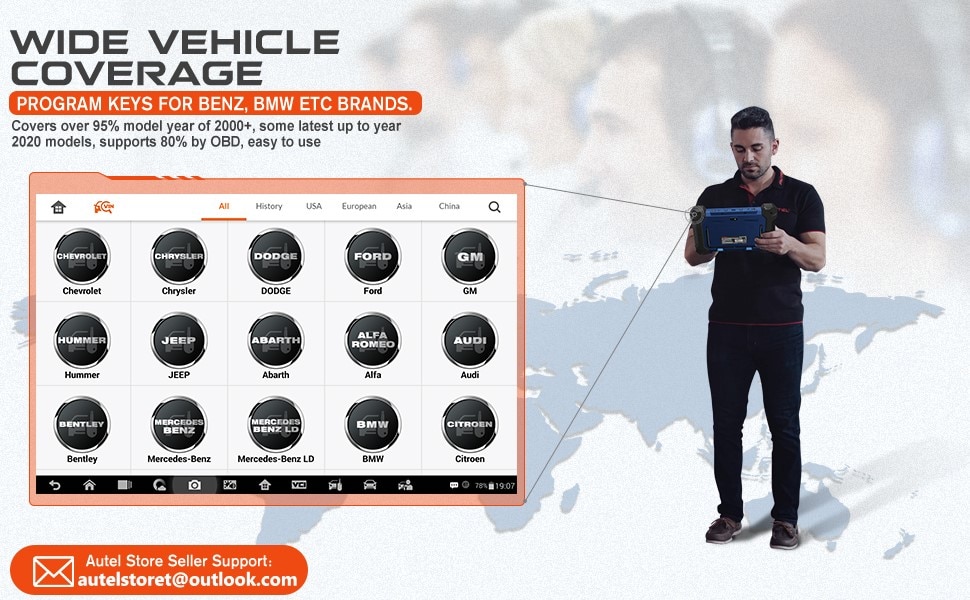 MaxiIM IMKPA
IMKPA is a Key Programming Adapter Kit, compatible with the XP400Pro Key & Chip Programmer. Includes 12 adapters for the XP400Pro that enable Read/Write/Erase for Mercedes Benz ESL_W209 / W906 Data, Mercedes Benz NEC Key Learning, BMW EWS3 Key Learning and. Volkswagen/AUDI/BMW/Benz Key Unlock. Compatible with the IM608 and IM508 with XP400Pro.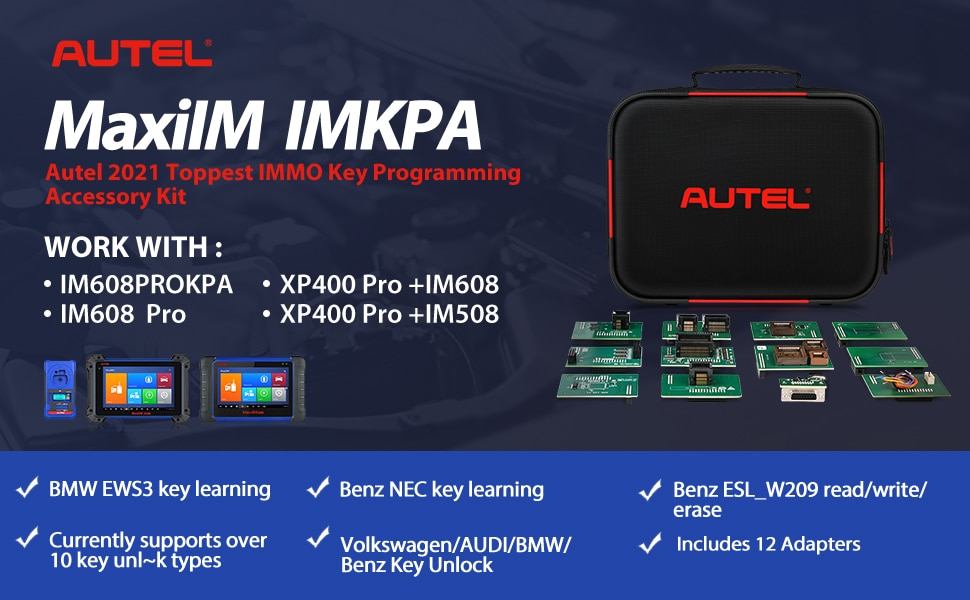 Features:
• MaxiIM Key Programming Adapter Kit • Includes 12 Adapters, Compatible with the XP400Pro • Enables Read/Write/Erase on Mercedes Benz ESL_W209 / W906 Data • Enables Mercedes Benz OE NEC Key Learning • Enables BMW EWS3 Key Learning • Enables Volkswagen/AUDI/BMW/Mercedes Benz Key Unlock • Compatible with IM608 Tablet and IM508 Tablet with XP400Pro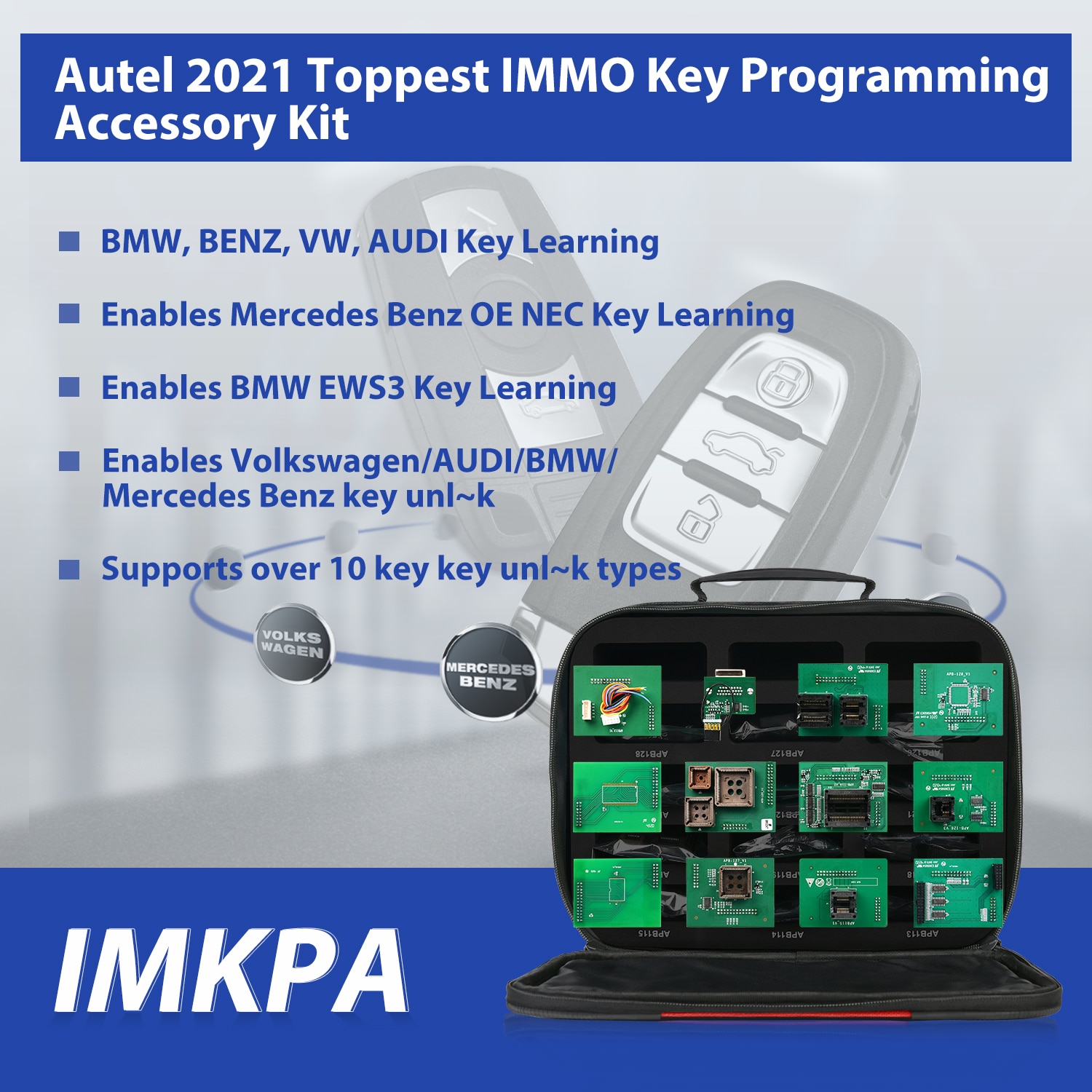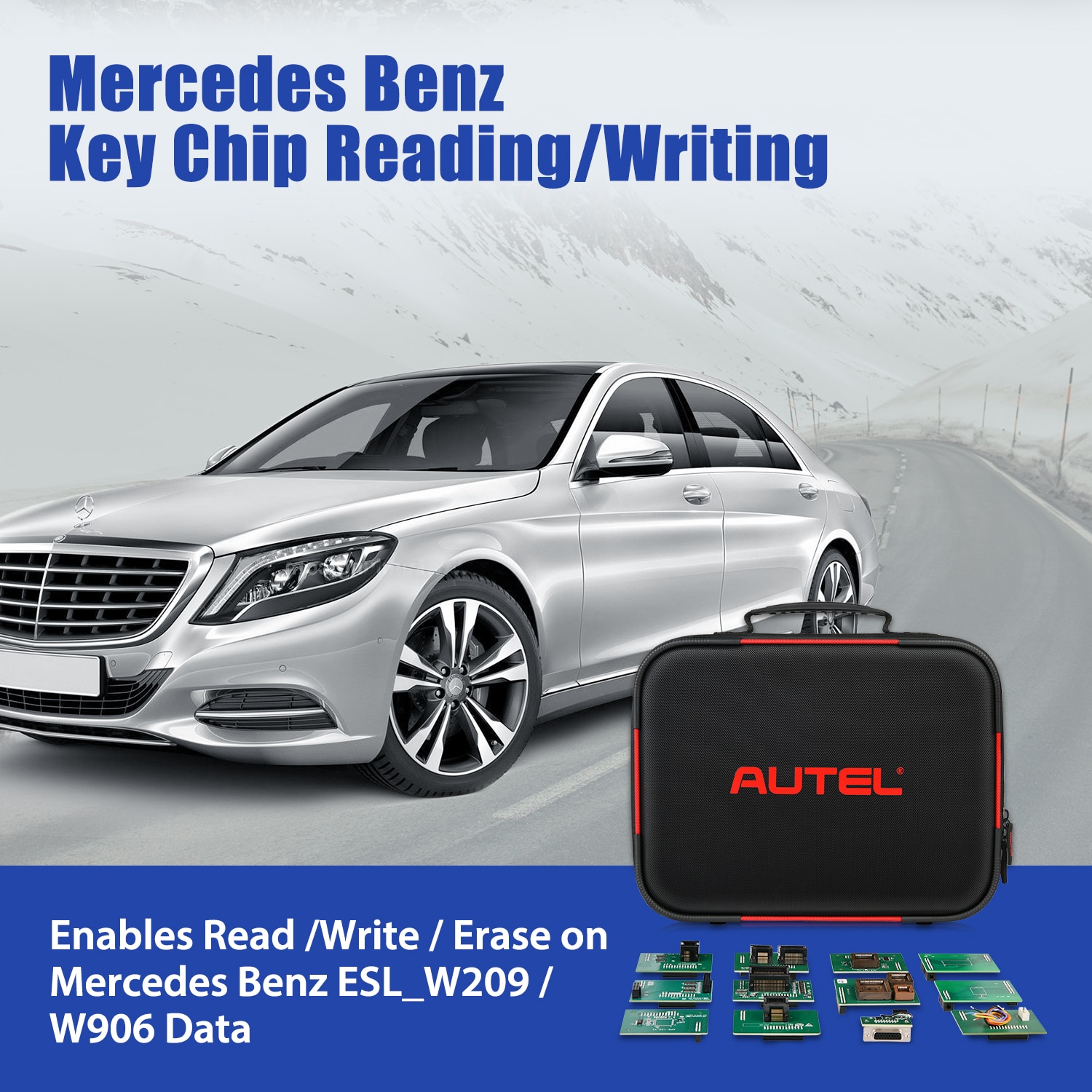 Autel IM608 Pro Packing List:
1x Autel MaxiIM IM608 Main Unit 1x APC101 USB Cable 1x APA101 Signal Cable 1x MaxiFlash JVCI 1x APB101+APD101(EEPROM Adaptor+EEPROM Adapter Shell) 1x APA103(EEPROM Clamp) 1x XP400 1x APB104 MB IR Cable 1x APA103 ECU Clamp 1x Main Cable 1x APB109(MCU_FQFP64) 1x APA105(MCU Clamp) 1x USB Cable (2m) 1x APB105 MCU_FQFP80 1x APA106(MC9S12 Clamp) 1x Mini USB Cable 1x APB106(MCU_FQFP144) 1x APA107(Connect Cable) 1x AC/DC 12V Adapter 1x APB107(MCU_FQFP144) 1x Quick Reference Guide 2x Light Fuse 6*30mm 1x APB108(MCU_FQFP176) 1x Packing List 1x Cigarette Lighter 1x APA002(EEPROM Socket) 1x Carrying Case 634*170*404mm 1x AAC001 1pc x XP400 Pro Main Unite 1pc x APB129 – EEPROM Adapter 1pc x APA002 – EEPROM Socket 1pc x APB125 – Mercedes Infrared Collector 1pc x APB103 – MCU_PLCC52 Adapter 1pc x APB104 – MCU_FQFP64 Adapter 1pc x APB105 – MCU_FQFP80 Adapter 1pc x APB106 – MCU_FQFP112 Adapter 1pc x APB107 – MCU_FQFP144 Adapter 1pc x APB108 – MCU_FQFP176 Adapter 1pc x APB109 – MCU_FQFP32 Adapter 1pc x APB110 – MCU_FQFP48 Adapter 1pc x APB111 – MCU_SO28 Adapter 1pc x APA101 – Spare Signal Cable 1pc x APC101 – USB Cable (Standard USB –Type B USB) 1pc x APA103 – EEPROM Clamp 1pc x APA107 – ECU Cable 1pc x APA108 – MCU Cable 1pc x APA109 – MC9S12 Cable 1pc x Dupont Line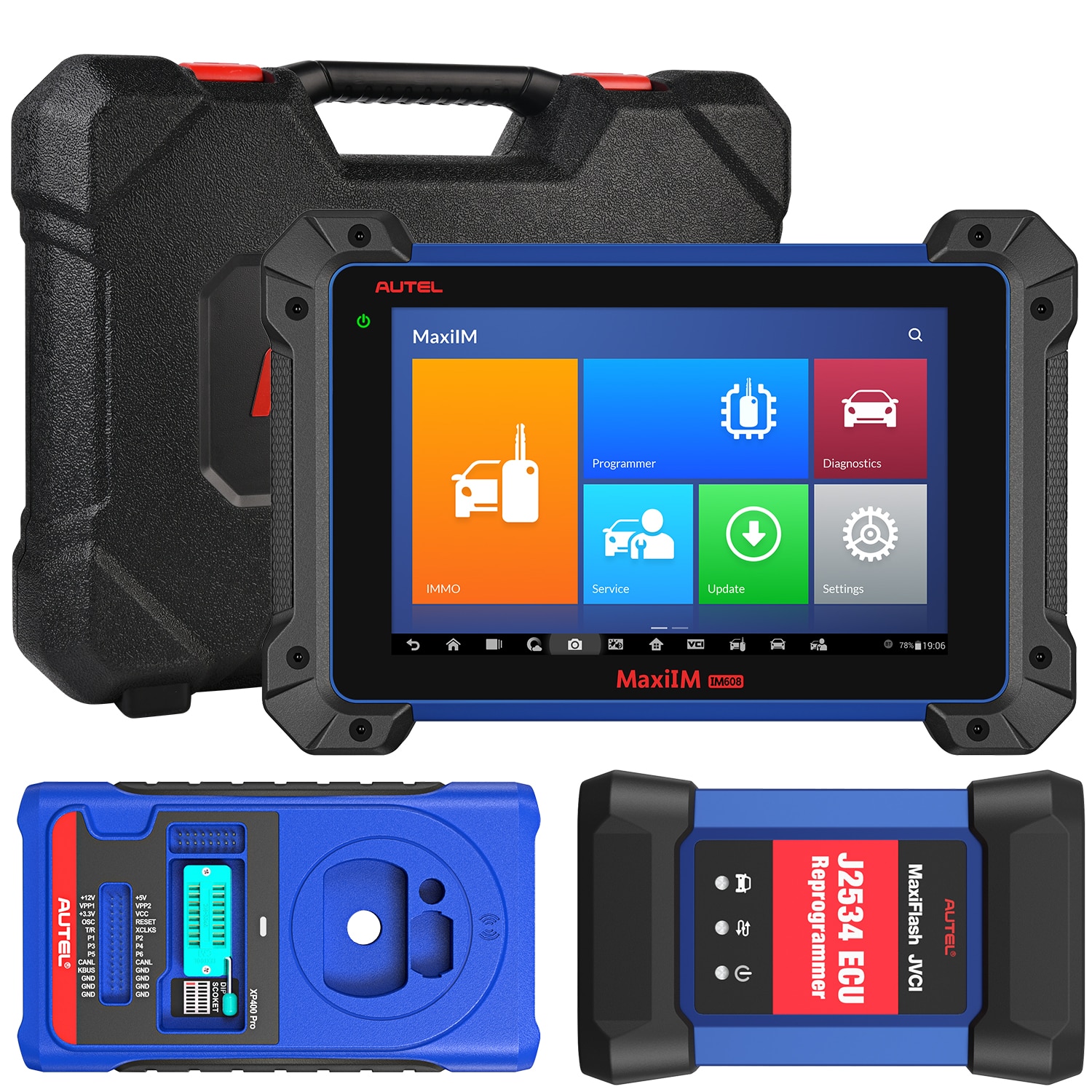 Autel APB112 Packlist:
1pc x APB112 Smart Key Simulator 1pc x USB cable 1pc x Quick Reference Guide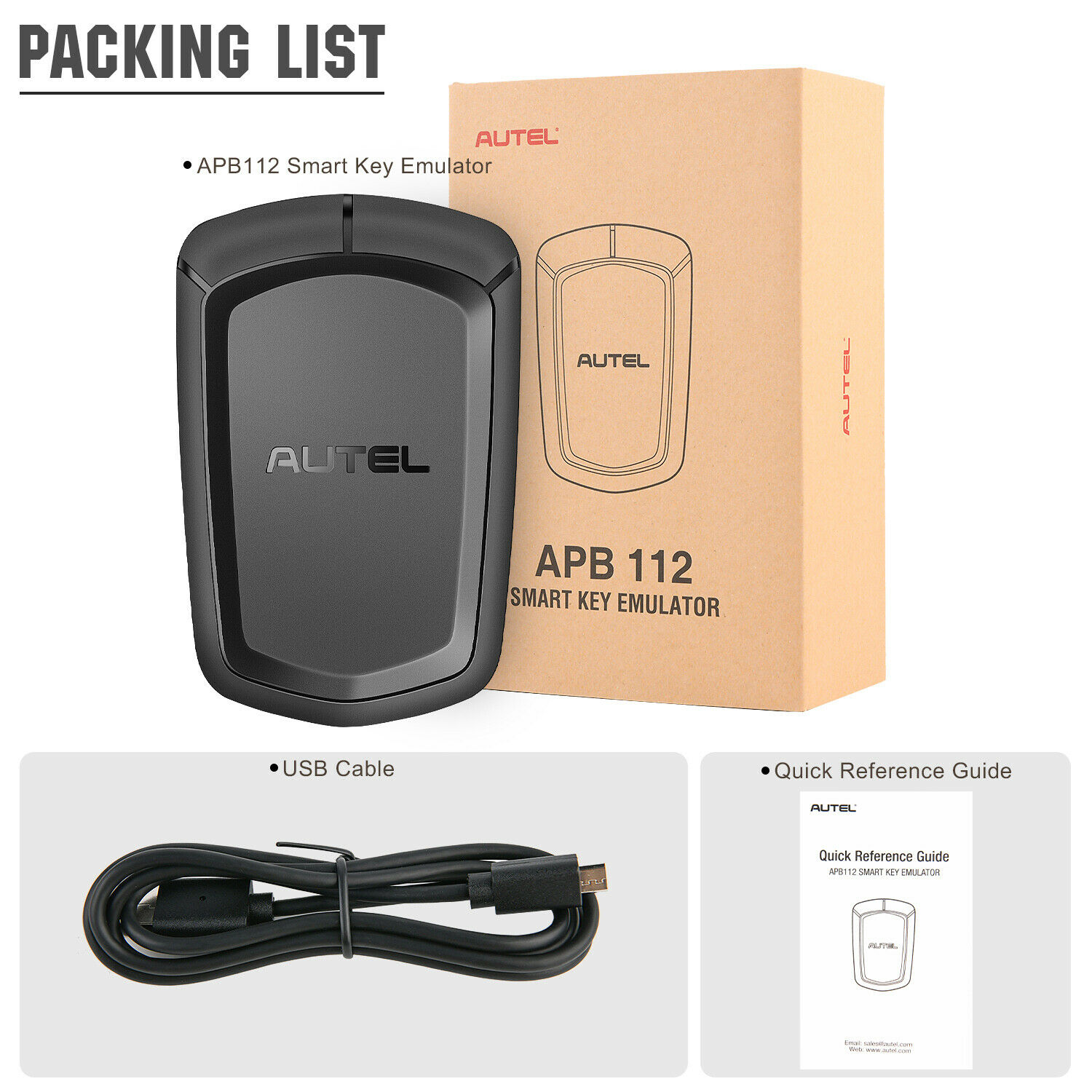 Autel G-BOX2 Package List:
1pc x Autel G-BOX2 1pc x DB15 Cable 1pc x K-Line Cable 1pc x Fuse Cable 2pcs x Fuse (5A) 2pcs x Clamp Cable 1pc x OBDII Extension Cable 1pc x Quick Reference Guide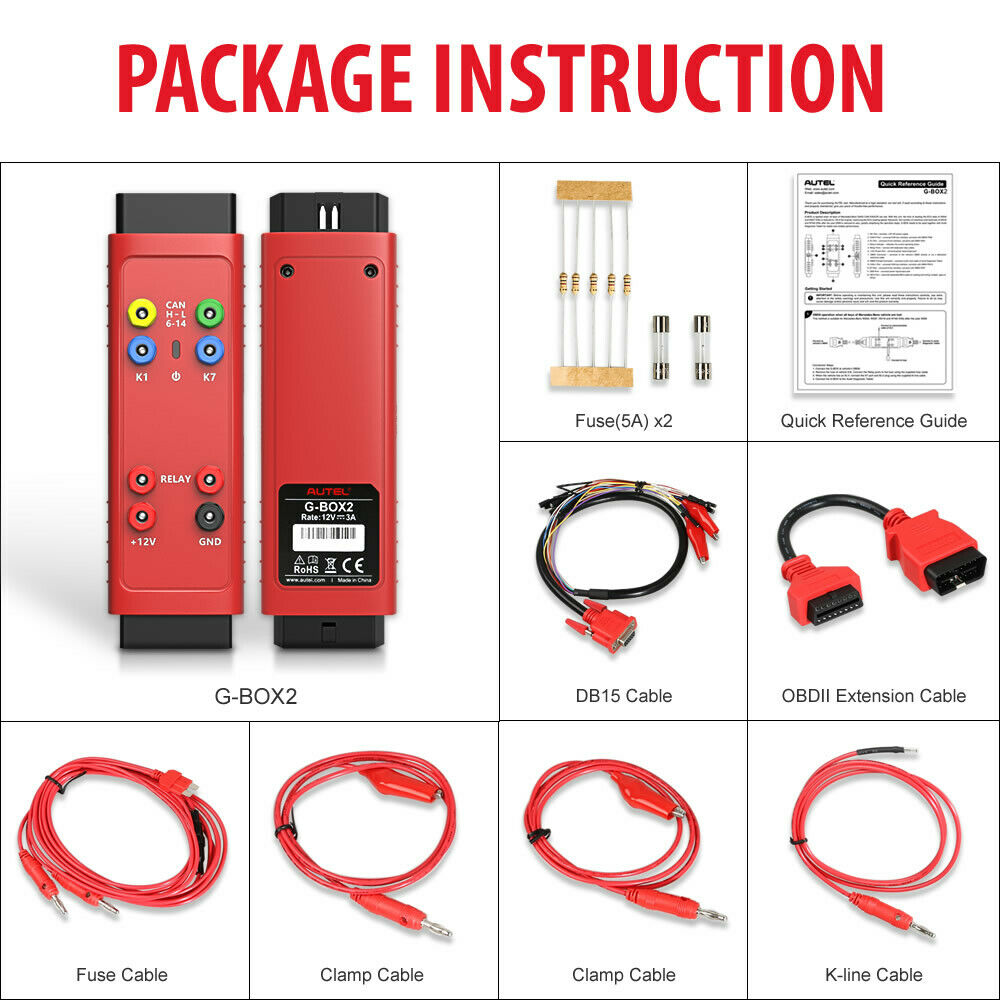 Package List of IMKPA Accessories:
1pc x APB113 1pc x APB114 1pc x APB115 1pc x APB118 1pc x APB119 1pc x APB120 1pc x APB121 1pc x APB122 1pc x APB123 1pc x APB126 1pc x APB127 1pc x APB128 1pc x Storage Case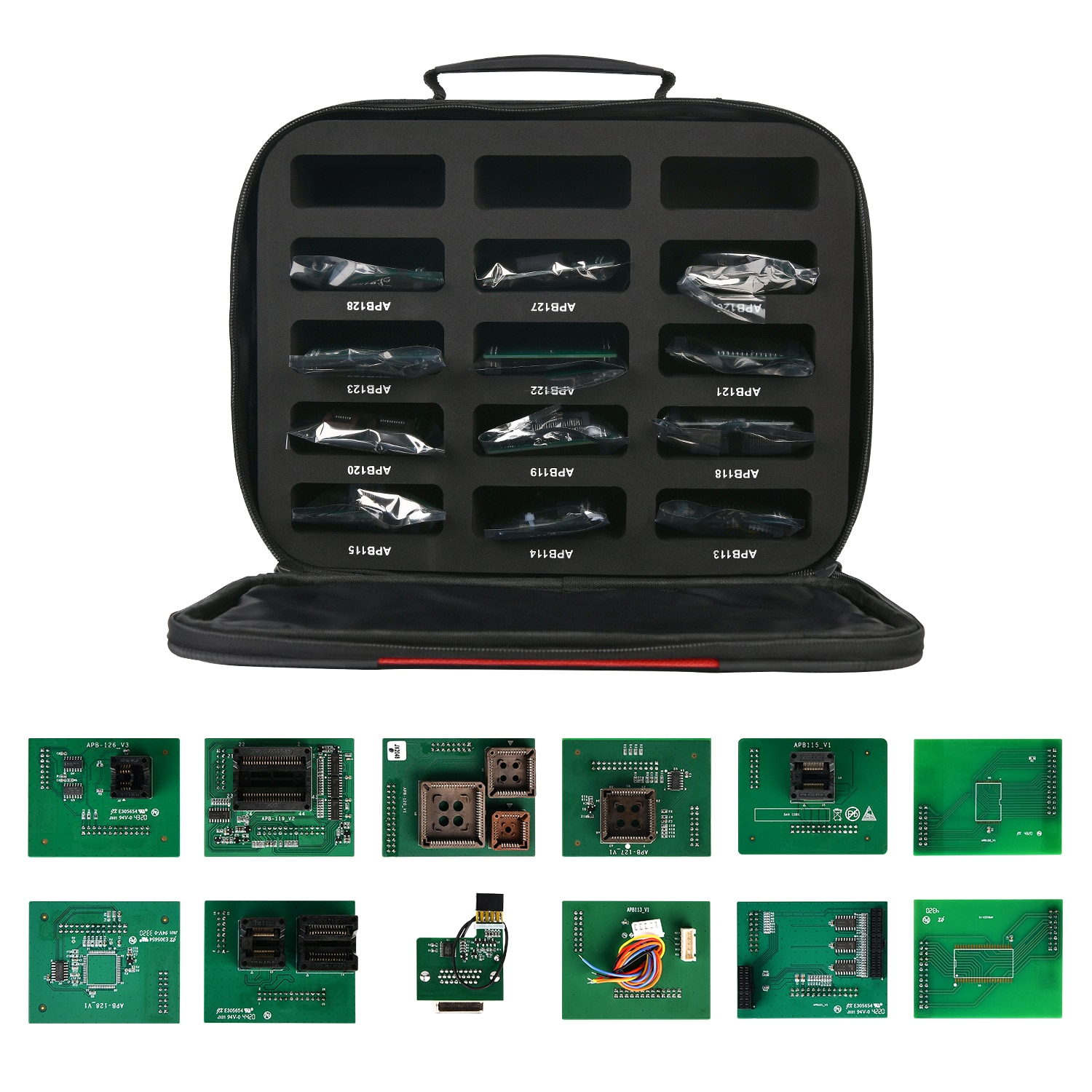 When you order from autel-store.com/, you will receive a confirmation email. Once your order is shipped, you will be emailed the tracking information for your order's shipment. You can choose your preferred shipping method on the Order Information page during the checkout process.
The total time it takes to receive your order is shown below:
The total delivery time is calculated from the time your order is placed until the time it is delivered to you. Total delivery time is broken down into processing time and shipping time.
Processing time: The time it takes to prepare your item(s) to ship from our warehouse. This includes preparing your items, performing quality checks, and packing for shipment.
Shipping time: The time for your item(s) to tarvel from our warehouse to your destination.
Shipping from your local warehouse is significantly faster. Some charges may apply.

In addition, the transit time depends on where you're located and where your package comes from. If you want to know more information, please contact the customer service. We will settle your problem as soon as possible. Enjoy shopping!