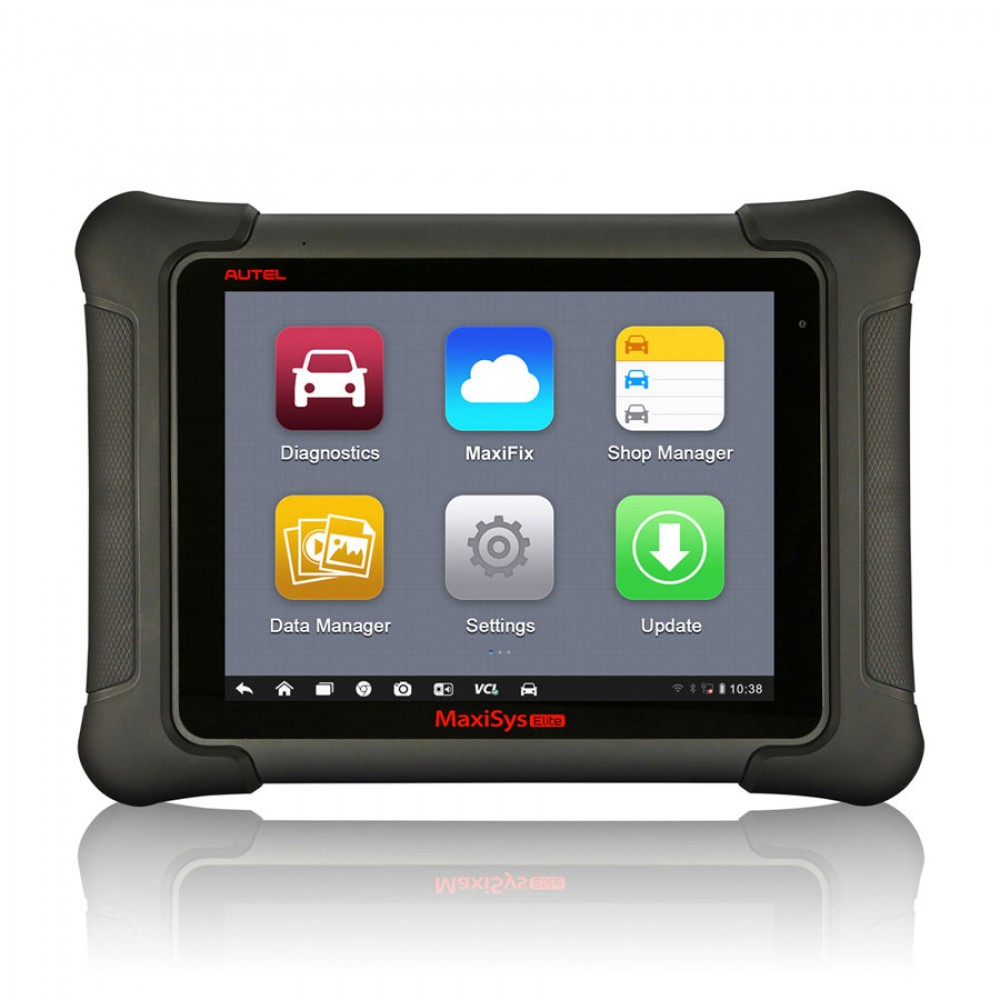 Original Autel MaxiSys Elite with Wifi/Bluetooth OBD Full Diagnostic Scanner with J2534 ECU Programming Free Update Online
Looking for help? or Get More Discount
Please contact WhatsApp:
+1 850 888 8336
Weight: 11.50kg
Size (LxWxH):
64cm x 44cm x 18cm
Product Description
Original Autel MaxiSys Elite with Wifi/Bluetooth OBD Full Diagnostic Scanner with J2534 ECU Programming Free Update Online

The MaxiSys Elite rapidly performs every job from comprehensive vehicle diagnostics & analysis to advanced ECU programming. 2x faster than any comparable device, the MaxiSys Elite provides extended battery life and intelligent power saving. The MaxiSys Elite offers a super-sensitive capacitive screen able to respond to gloved, moistened, and even greasy fingers! The ergonomically angled docking station provides optimum visibility and convenient charging that eliminates power concerns.

Autel MaxiSYS Elite enables technicians to quickly access the Electronic Control Unit(ECU) and scan,diagnose and clear faults on the numerous system modules controlling almost every automotive make and modules controlling almost every automotive make and model on the road today.The MaxiSys Elite offers a super-sensitive capacitive screen able to respond togloved moistened,and even greasy fingers!

Shop Manager feature simplifies your record keeping and improves customer service by saving a detailed service and repair record of its customers and their vehicles.Shop Manager detailed service reports can be generated and wirelessly printed from the Elite tablet and given to the customer.This information also can be stored on the Elite and then instantly retrieved and reviewed the next time the vehicle is in for service.

MaxiFIX is another dynamic feature of the Elite.Acting as a gateway to the MaxiSys user community,users can share information regarding successful repairs,quick fixes and vehicle-specific trouble code information.Technicians can also contact the Autel software development team to discuss software issues encountered when diagnosing with the tool.Autel's technical support can remotely log into the device with your tech still logged in.This real-time support produces quick and accurate solutions,allowing for simple transfer of data logs between tech and support specialists.

Autel MaxiSYS Elite boasts an enhanced version of its renowned diagnostics software,greater processor and communication speed,improved battery lift and a convenient docking and charging station for optimal viewing and continuous use.

AUTEL MaxiSys Elite Features:

1. The most extensive complete system coverage for more than 80 US domestic, Asian and European makes and models
2. Exceptional OE-Level functionality from comprehensive OBDII diagnostics & services to advanced ECU coding and programming
3. Uniquely integrated vehicle programming capabilities working with a SAE J2534-1 & -2 compliant vehicle programming pass-thru interface
4. Automatic system and software updates with real-time push message notifications via internet
5. Instant remote control tech support anytime, anywhere
6. Interactive Data Logging sessions enable direct contact with Autel Support for first-hand troubleshooting of diagnostic bugs and errors
7. One-stop multitasking designed for ideal management of workshop operations to keep all data files, customer info, and vehicle records well organized
8. Unique ergonomic design with rubberized outer protection and a rugged internal housing
9. Hardware running speed is twice than Maxysys MS908P.




AUTEL MaxiSys Elite Function

ECU matching on Ford enables you match the new ECU with your vehicle after replacing the old one
Coding function helps you do programming and coding on some specified control modules
Leading function for VW&Audi offers you a step-by-step guidance as how to fix the problem when you diagnosed the problem of the vehicle
Anti-theft matching can disable the lost key and add the new key's information to program to ensure the security of your vehicle
SAS reset will calibrate the steering angle sensor after the replacement to make sure the ECU issued the correct steering instructions and memorize the max angle's position
Tire pressure reset is to make up or replace the tire, tell the ECU that the tire pressure returned to normal and keep all the information in record
Injector programming will write the new code to the ECU after replacement of injector, so that the injector works
DPF reset is to retrieve/erase DPF-related codes, reset the DPF light after the filter has been replaced
Throttle matching is to do ECU matching after throttle cleaning or replacement..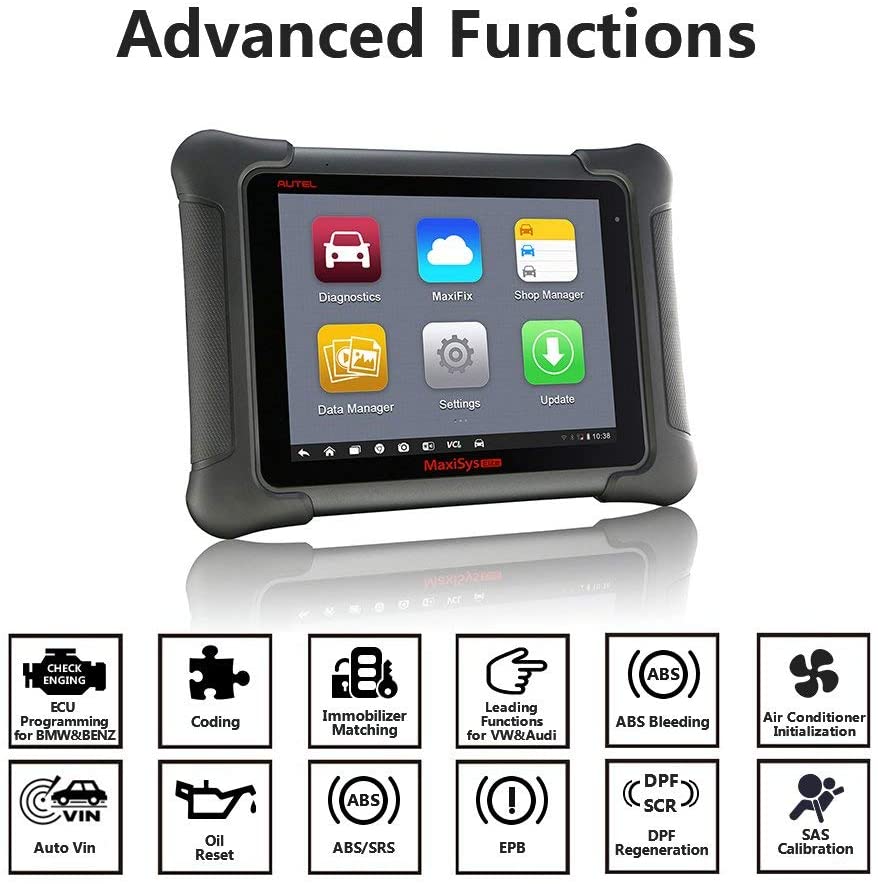 1. FAST: Autel MaxiSys Elite is equipped with the NVIDIA Tegra 4 Quad-Core Processor 1.8HGz that provides you with a fast operation speed and a quick diagnosis,the boot up time is within 20 seconds,all these give you a wonderful diagnostic experience
2. SMART: This diagnostic tool has some excellent functions such as automatically read VIN and One-Click Upgrade, Autel Cloud Technology (MaxiFix Platform, Data Management, Data Feedback) gives you support anytime, anywhere
3. MOBILE: This diagnostic scanner is with exceptional OE-Level functionality that works on most OBD1/OBD2 protocols, the enhanced wireless connectivity between the tablet and VCI device allows greater mobility and ease at work
4. POWERFUL: This diagnostic scanner can complete online ECU programming on Benz and BMW vehicles, ALL system diagnoses, and other various advanced functions and common functions

All Modules - Chassis, Powertrain, Body etc
Read and Clear Codes
Live Data/Record/Playback
AutoVIN Technology
SAS Functionality
ABS Functionality
DPF Functionality
EPB Functionality
Climate Control Functionality
Oil Service Functionality
Instrument Cluster Functionality
Steering Angle Sensors
Service Mileage/Interval Reset
Battery Registration/Reset
Adaption Testing
Activation Testing
Docking Station
Key Programming
J2534 Passthrough
ADAS Upgradeable
Higher Level Programming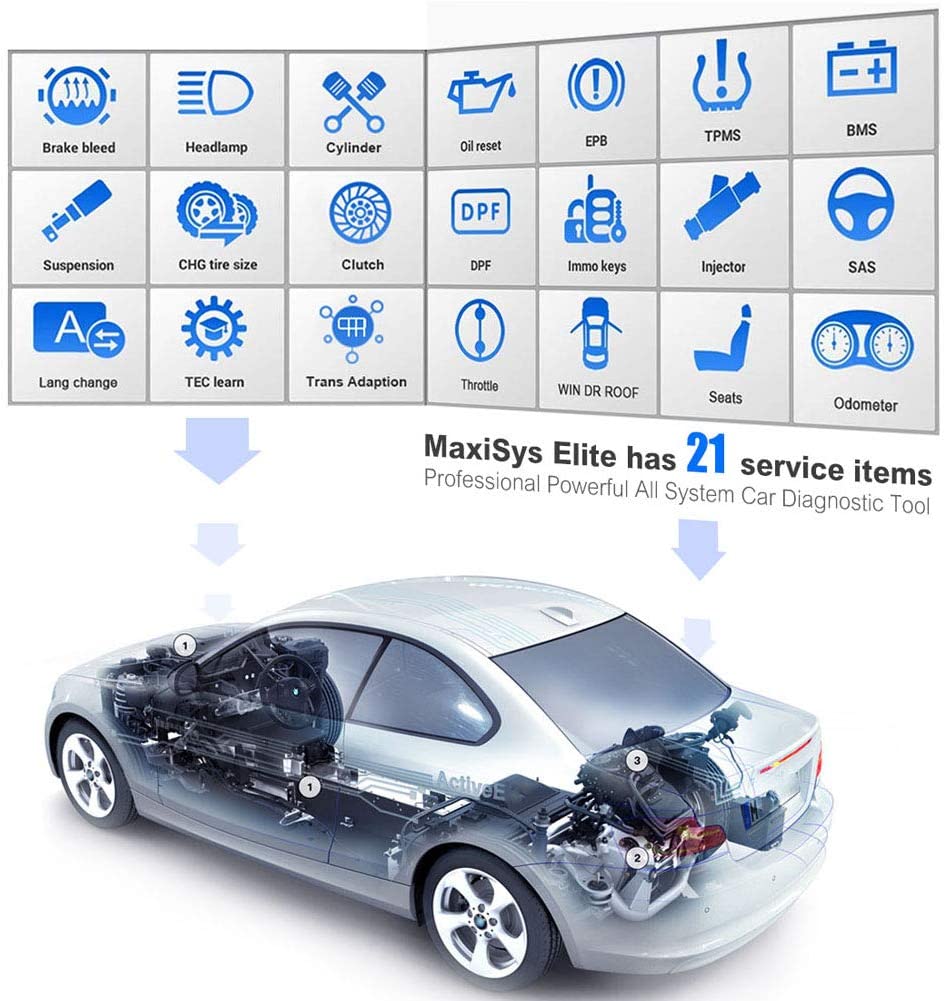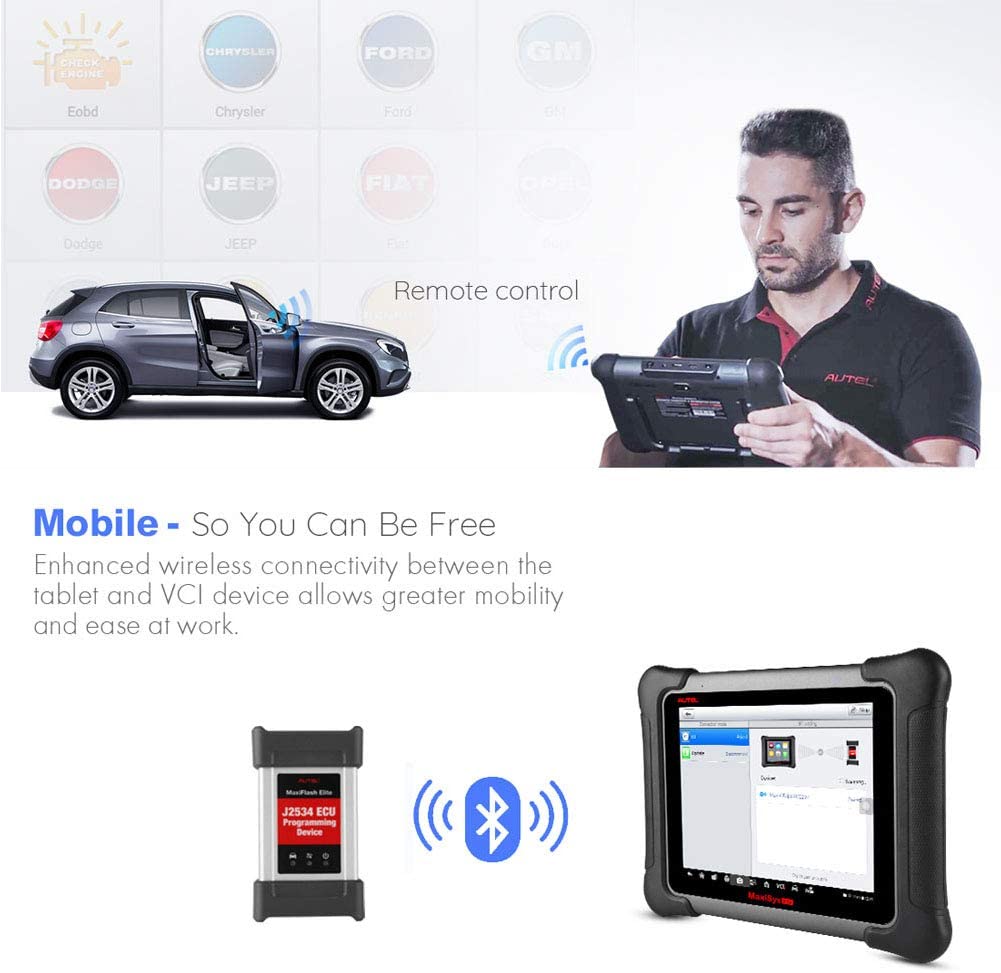 AUTEL Maxysis Elite Vehicle List:
AUDI, BENZ, BMW, DACIA, EU FORD, AU Ford, Ford, Holden, LANDROVER, MINI, OPEL, PEUGEOT, RENAULT, SEAT, SKODA, VW, VOLVO, SMART, JAGUAR, BENZ SPRINTER, SAAB, FIAT, ABARTH, LACIA, ALFA ROMEO, VAUXHALL, MAYBACH, BENTLEY, BUGATTI, PORSCHE,GM, CHRYSLER, FORD,SUZUKI, KIA, DAWEOO, ISUZU, TOYOTA, SUBARU, SCION, NISSAN, MITSUBISHI, LEXUS, INFINITI, HYUNDAI, HONDA, ACCURA, MAZDA.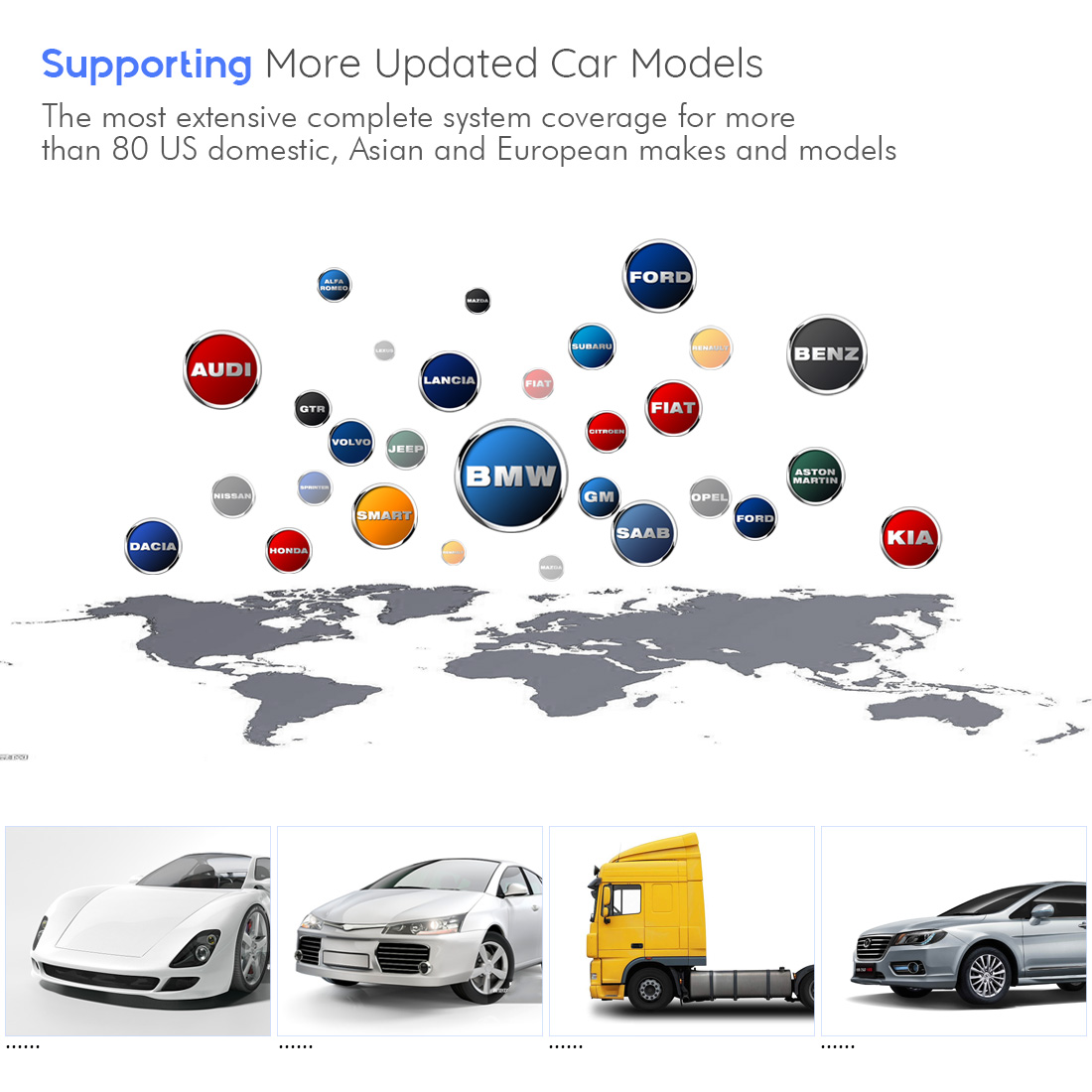 Autel MaxiSYS Elite J2534 ECU Programming Device: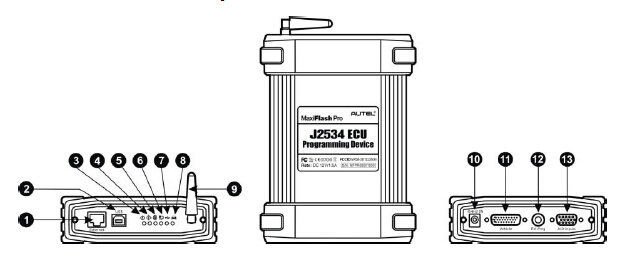 1. Ethernet Port
2. USB Port
3. Power LED-illuminates solid green when powered on
4. Error LED-illuminates solid red when serious hardware failure occurs
5. BT LED-illuminates solid green when connected with the MaxiSys display tablet through BT communication
6. Ethernet LED-illuminates solid green when connected with the MaxiSys display tablet or an existing LAN via the Ethernet serial cable
7. USB Status Light-illuminates solid green when the device is properly connected and communicating with the MaxiSys display tablet or the PC via the USB cable.
8. Vehicle LED-flashed green when communicating with the vehicle's network
9. BT Antenna
10. DC Power Supply Input Port
11. Vehicle Data Connector(DB26-Pin MVCI)
12. External Programming Voltage Output Port

Attention: Do not disconnect the reprogramming device while this status light is on! If the flash reprogramming procedure is interrupted while the vehicle's ECU is blank or only partially programmed,the module may be unrecoverable.

Autel MaxiSYS Elite vs Autel MaxiSYS Pro 908P vs MS908 vs Mini MS905

| | | | | |
| --- | --- | --- | --- | --- |
| Comparison | Autel Maxisys Elite | Autel Maxisys MS908P | Autel Maxisys MS908 | Autel Maxisys Mini MS905 |
| CPU | NVIDIA Tegra® 4 1.8GHZ | Samsung Exynos Quad 1.4GHZ | Samsung Exynos Quad 1.4GHZ | Samsung Exynos Quad 1.4GHZ |
| OS | Android 4.4.4 KitKat | AndroidTM 4.0 ICS | AndroidTM 4.0 ICS | AndroidTM 4.0 ICS |
| SSD HD | 32GB | 32GB | 32GB | 32GB |
| Touch Screen | 9.7" 2048X1536 LCD Capacitive | 9.7" 1024x768P LED capacitive | 9.7" 1024x768P LED capacitive | 7.9" 1024x768P LED capacitive |
| Connectivity | USB 3.0/WLAN/BT | USB 2.0/WLAN/BT | USB 2.0/WLAN/BT | USB 2.0/WLAN/BT |
| Dual Brand Wifi G/N | ≥10GHz | 2.4 & 5 GHz | 2.4 & 5 GHz | 2.4 & 5 GHz |
| Internal Battery | Y | Y | Y | Y |
| Weight | 3.5lb | 3.12lb | 3.12lb | 1.54lb |
| Camera(Rear) | 8.0 Megapixel/AF/Flash | 5.0 Megapixel/AF/Flash | 5.0 Megapixel/AF/Flash | 5.0 Megapixel/AF/Flash |
| Wireless BT VCI | USE J2534 | USE J2534 | Y | Y |
| Optional Lab Scope | Y | Y | Y | Y |
| Optional Video Scope | Y | Y | Y | Y |
| Boot Up Time | 15 secs | 20 secs | 20 secs | 20 secs |
| Autel's Powerful OEM Level Coverage | Y | Y | Y | Y |
| AUTO VIN Technology | Y | Y | Y | Y |
| Maxifix Cloud Based Info System | Y | Y | Y | Y |
| Shop Manager | Y | Y | Y | Y |
| ECU Coding | Advanced | Advanced | Y | Y |
| ECU Flash Porgramming | Y | Y | Optional W/ Maxiflash Kit | N |
| 1996-2001 Connector Kit | Complete Connector kit | Complete Connector kit | Complete Connector kit | OBDII Connector Kit Optional Connector Kit |
| J2534 Hardware | Included | Included | Optional | N |


AUTEL MaxiSys Elite Specifications:

Operating System
Android 4.4.4 KitKat
Processor
NVIDIA Tegra® 4 (4-PLUS-1 Quad-core Processor) 1.8GHz with ARM Cortex – A15 CPU
Memory
2GB RAM & 32GB Embedded Memory
Display
9.7" Retina display with 2048X1536 resolution & Capacitive touch screen
Connectivity
802.11a/b/g/n/ac WIFI

Version 2.1 3Mbs Bluetooth

RJ45 Ethernet Connection

3.0 USB (2.0 Compatible)

HDMI 1.4a

SD Card (Support up to 32GB)
Camera
Rear: 8.0 Megapixel, Autofocus with Flashlight

Front: 2.0 Megapixel
Sensors
Ambient Light Sensor, G-sensor
Audio Input/Output
Microphone

Dual Speakers

3-Band 3.5 mm stereo/standard headset jack
Power and Battery
3.7V/13600mAH Lithium-polymer battery

DC/12V/3A Power Supply
Input Voltage
DC/12V/3A
Power Consumption
Max 20W
Operating Temperature
-10 to +55°C
Storage Temperature
-20 to +70°C
Dimensions (W x H x D)
309 X 225 X 35 (mm)
Weight
1.59 kg
Protocols
ISO 9142-2, ISO 14230-2, ISO 15765-4, K/L lins, Flashing Code, SAE-J1850 VPW, SAE-J1850 PWM,

CAN ISO 11898, Highspeed, Middlespeed, Lowspeed and Singlewire CAN, GM UART, UART Echo Byte Protocol, Honda Diag-H Protocol, TP 2.0, TP 1.6, SAE J1939, SAE J1708V


AUTEL Maxysis Elite FAQs

Question:Does this system come with troubleshoot feature?
Answer:Of course, it can diagnose cars, Read and clear DTC, the most important is it can do ECU coding & Programming.

Question:Can this scanner be used to calibrate seat sensors
Answer:Dear Sir , this diagnostic aumotive scanner can do it on most cars, but if you want to make confirmation just tell us the car model, year and VIN, we will have a check and tell u the result.

Question:Does the maxisys elite do tpms?
Answer:Sorry, it can not do professional tpms function , you can re-purchase ts401, ts501 or ts601.

Question:will this program ford super duty body controller?
Answer:Yes it can reprogram or initialize

Question:What's the difference between the elite and 908pro Does it have more special functions?
Answer:Dear sir,Autel Maxisys Elite is the upgrade version of 908pro and it is more powerful.


AUTEL Maxysis Elite Reviews:

Review 1:
The scanner met my needs and was able to communicate with all of the vehicles that I own. I compared it to my Tech 2 scanner and the same functionality was built within this tool. And the bi-directional controls were the same and worked flawlessly. It's a very capable tool with lots of features such as reprogramming keys, fobs, modules and being able to communicate wirelessly with the vehicle.

Review 2:
A little overkill for my needs as this is a full blown professional shop caliper diagnostic and repair tool. Very expensive but you get what you pay for. The device has paid for itself already twice over. I give it a thumbs up all day long.

Review 3:
I have been a Ford Master Technician for 30 years and used about every brand diagnostic scanner over the years and this one is hands down the best and most universal scanner I have used to date! Never once have I had an issue with the Blue Tooth connection between the scanner and the VCM unlike what we use at Ford. Programs keys perfectly, bi-directional controls work flawless and is very fast processing of live data....WAY faster than Snap On Versus and the software especially for Ford is almost identical to Fords software with the IDS we use at the dealership...I actually prefer my Autel over the IDS now.

Review 4:
This scan tool is a must have. I have been blown away by the capability of this tool, parucuarly in European vehicles. I have used many scan tools throughout my career, and this is by far my favorite.

Review 5:
I've been a tech for almost 8 years and this is the best hands down scan tool. I recently owned the autel ds708 for a number of years and did me great for the time. I wanted to upgrade to a newer model. So far it's been good with communicating with all make and models. Shows multiple scan data pids, good graphing of o2 sensors. A fourth of a price for a snap on versus and still has more functions besides the lab scope. I work with another technician and he still needs to borrow my scan tool at times.


AUTEL Maxysis Elite Package Including: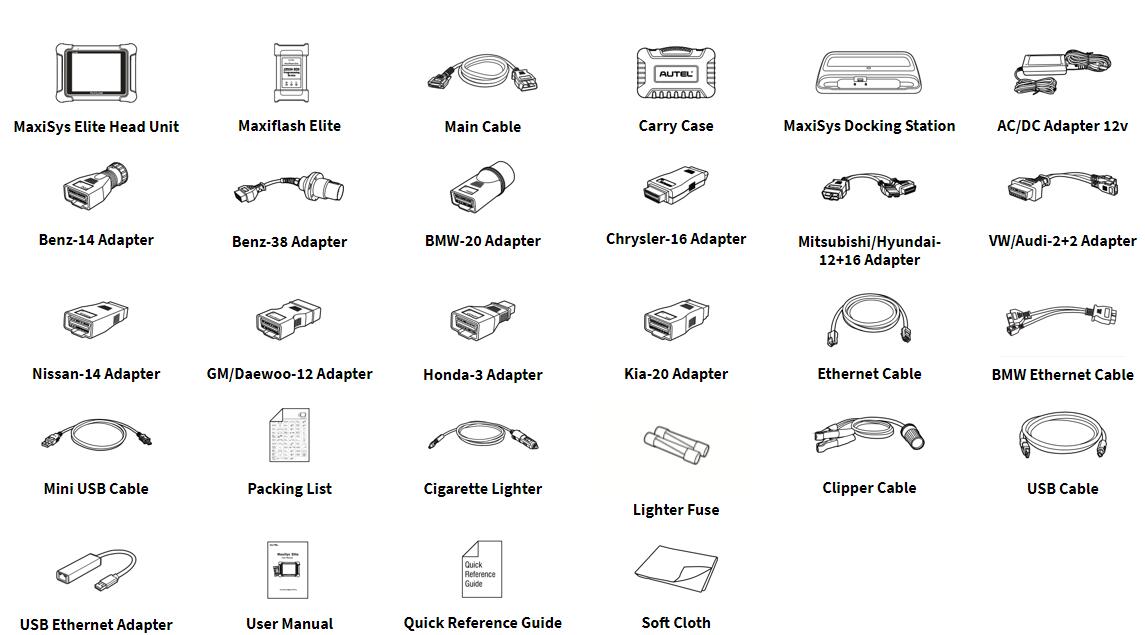 1pc x Maxisys Elite Interface
1pc x Lighter Fuse
1pc x GM/Daewoo-12 adaptor
1pc x PSA-2 adaptor
1pc x Fiat-3 adaptor
1pc x BMW-20 adaptor
1pc x Benz-38 adaptor
1pc x Kia-20 adaptor
1pc x Mitsubishi/Hyundai-12+16 adaptor
1pc x Nissan-14 adaptor
1pc x Honda-3 adaptor
1pc x USB Cable
1pc x Cigarette Lighter
1pc x Compact Disc (CD)
1pc x AC/DC External Power Adapter
1pc x Clipper Cable
1pc x Screwdriver
1pc x VW/AUDI-2+2 adaptor
1pc x Chrysler-16
1pc x Benz-14 (Optional)
1pc x Mini USB Cable
1pc x Ethernet Serial Cable

When you order from autel-store.com/, you will receive a confirmation email. Once your order is shipped, you will be emailed the tracking information for your order's shipment. You can choose your preferred shipping method on the Order Information page during the checkout process.
The total time it takes to receive your order is shown below:
The total delivery time is calculated from the time your order is placed until the time it is delivered to you. Total delivery time is broken down into processing time and shipping time.
Processing time: The time it takes to prepare your item(s) to ship from our warehouse. This includes preparing your items, performing quality checks, and packing for shipment.
Shipping time: The time for your item(s) to tarvel from our warehouse to your destination.
Shipping from your local warehouse is significantly faster. Some charges may apply.

In addition, the transit time depends on where you're located and where your package comes from. If you want to know more information, please contact the customer service. We will settle your problem as soon as possible. Enjoy shopping!